I love giveaways.
Not only because of the freebies, but also to share the joy for whatever the host is celebrating. It's fun! It makes me think maybe someday it would be my turn to celebrate having like 50 followers or 100th post.
So I decided to have all current giveaways or contests summarized regularly so that more readers can join.
Here we go this week's fabulous giveaways:
R3Daily
is celebrating 50 followers by giving away her favorite set of manicure products. To enter, check out
her blog
before Feb 24. (Ended)
4 lucky winner get to take home some great prizes from
Lacquered Lizard
as she is celebrating 50 followers! Congrats Elizabeth! Check out the giveaway details
HERE
. It is open till Feb 26
You've Got Nail
is giving away a bottle of Obsess from Illamasqua and some cute little The Face Shop polishes. I really don't want to miss this!
Go here
for more details and enter before Feb 27.
PerryPie's Nail Polish Adventures is giving away 17 polishes and some konad stuff in celebration of 100+ followers! Half are these are Sally Hansen which I can't get here in Hong Kong. I want these badly!!
Please visit
PerryPie's blog
for details, it is open till Feb 28.
You can win some Sally Hansens and NYC Color from
Kolour Me Krazy
. Check out her blog, it opens until Feb 28.
Neglelakkmani
is having a not that "little" giveaway. The Claire's look hot! Winner will be drawn on March 1,
click to enter
before it ends!
Nathalie from
Jellynat
is having her first giveaway. She is a very sweet girl who works very hard on her blog. Unlike me, she is a very good photographer. I really love her pictures. Go check out
her blog
and
enter the giveaway
here before March 1.
Lady Gray from
Lady of the Lane
is celebrating 50 followers, congratulations! You may get this if you win
her giveaway
. It ends March 2.
Evil Angel from
Black Nail Polish and Lip Gloss
is having a giveaway to celebrate 300+ followers. She is a very kind person who extends her love to homeless animals - you can have FIVE extra entries if you donate a bag of dog/cat food or equivalent cash to your local animal shelter.
Enter
HERE
before March 3. Have a peek at the prizes:
In celebration of 400+ follwers,
Makeup by Celly
is giving away these fabulous prizes: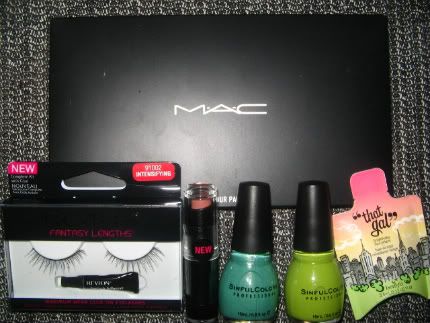 For details, please check out
Celly's blog
. The giveaway ends March 4.
Tiffani from
Yardsticks 4 Lunatic
is having her giveaway for celebration of 100 followers. It ends March 5, Make sure to
check it out
.
I'm so frustrated every time when I have difficult time getting my hand on some US / Europe-exclusive polishes. If you have got the same problem, be sure to check out
Rock 'n' Nails
. They are hosting a some sorta swap there, and you may get your European polish lemmings fulfilled! It is open till March 5.
April and Ashley from
Concrete and Nail Polish
is having their first Follower Appreciation giveaway. The lucky winner get to take home a whole bunch of prizes from polishes to cosmetics to a purse! Check out the details
HERE
. It ends March 7.
Painted Lady Fingers
is hosting the "For the Love of Manglaze" giveaway.
Enter Here
for a chance to win. Runs through March 8
Michèle from
Lacquerized
is celebrating 250 followers and she is giving away 2 sets of H&M polishes. It ends March 10. Check it out
here
.
MAC is one of my favourite makeup brands. I was thrilled finding Nooberella from
Nooberellas Secret Beauty Blog
is giving away MAC eyeshadow, fluidline eyeliner and a set of false eyelashes in celebration of 100 followers. Even better, they are all at your own choices! Isn't it awesome? Go
check it out
before it ends! (Runs through March 14)
Karin from Romika's Nails is also celebrating 100 followers by hosting her first giveaway! It is open till March 14. Enter
HERE
and the prizes are:
I have been wanting to try out Ciate forever, and here's a chance! Lina from
Make Up to Make Out
is having a giveaway to celebrate 100 followers. One of the prizes is Ciatè Paint Pot in Sugared Almonds!
Check out the details
and enter before March 16.
The Chain Nail
is celebrating 50+ followers by giving away some nail art products! More prizes will be added, be sure to
check it out
and enter. It ends March 31.
(Photo credits: All photos are from the blogs hosting the respective giveaway/contest)